Spine SRS
Innholdsfortegnelse
GENERAL INFORMATION

SOFTWARE OVERVIEW

CALCULATE TREATMENT PLANS

REVIEW TREATMENT PLANS

SAVE TREATMENT PLANS

EXPORT TREATMENT PLANS

CLINICAL PROTOCOL EDITOR

HOW THE OPTIMIZATION ALGORITHM WORKS

IMPORT DATA

SOFTWARE REVALIDATION

MESSAGES
Slik identifiserer du produktet ditt
For maskinvare
Navnet på produktet finner du på enhetsetiketten.
For programvare
Finn Brainlab-produktnavnet og -versjonen ved å utføre følgende trinn:
1. Klikk eller trykk på Brainlab-logoen i programvaren (nederst til høyre).  En dialogboks åpnes.

2. Gjør en merknad om programvarenavnet og versjonsnummeret fra den digitale boksen. Du må bruke de første to sifrene i versjonen for å finne riktig brukerveiledning.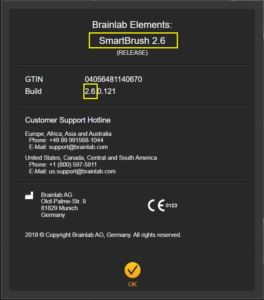 3. Legg inn disse opplysningene i søkefeltet på denne nettsiden.
Den siste versjonen vises som standard. Hvis du har en tidligere programvareversjon, sjekk nedtrekksmenyen for å se om den er tilgjengelig.
Measure Menu
Coordinates Used
X, Y, Z coordinates are displayed in the DICOM coordinate system.
Art-No. 60919-40EN
Utgivelsesdato: 2019-05-22
Den nettbaserte versjonen er basert på den trykte versjonen av brukerhåndboken, men kan inneholde ekstra innhold.