How to Use Virtual iMRI Cranial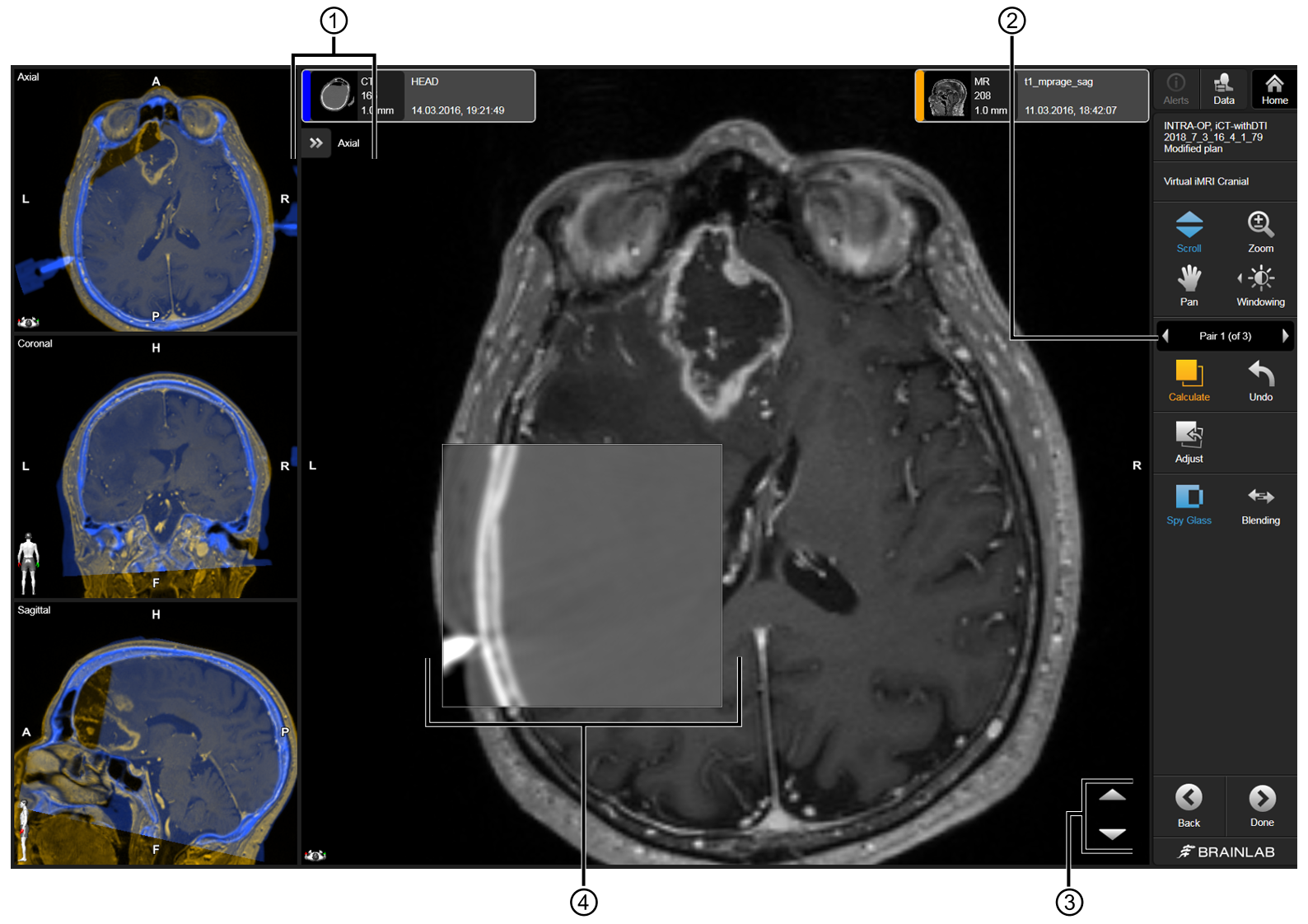 Step

1.

Select the fusion pair for review or calculation.

Select and switch between fusion pairs ② for review.

2.

Review the fusion by using Blending/Spy Glass.

By default, Spy Glass ④ is activated.

3.

Select Calculate to start the simulation.

4.

Within the dialog, you can:

Select a preexisting resection cavity

Draw your own resection cavity. This prompts SmartBrush to open.

5.

If at this point you create a resection cavity in an intraoperative image set, be aware of the following:

Applications can link/switch to

SmartBrush

if no resection cavity has been created yet
Ensure that the intraoperative image set is selected for drawing in

SmartBrush

Ensure that the new resection cavity object is created in the intraoperative image set.
The resection cavity is drawn as accurately as possible (based on surgical results and what is visible in the intraoperative image set)
Do not intentially create a smaller or larger cavity to influence calculation results
Adjusting

Windowing

within intraoperative image sets may help visualize the resection cavity.

6.

Select your resection cavity from the dialog and select OK.

7.

An animation is displayed during calculation. You can close the animation to continue inspecting your data while the calculation runs.

On remote connections (e.g., running on Brainlab Node Server), no animation is displayed.

8.

Select between Axial, Coronal and Sagittal view orientations ①.

9.

Scroll through the image slices using the arrow buttons ③.

You can also use the mouse wheel to scroll.

10.

Review and verify the simulation result by toggling between Blending/Spy Glass.

Toggle Original to compare the simulation with the original image.

11.

Review and accept the fusion result, if it is satisfactory.

On accepting the fusion result, its status is displayed.

12.

Select Done when complete.

The fusion results are saved for further processing.
Article No. 60917-73EN