How to Define the Patient Model Settings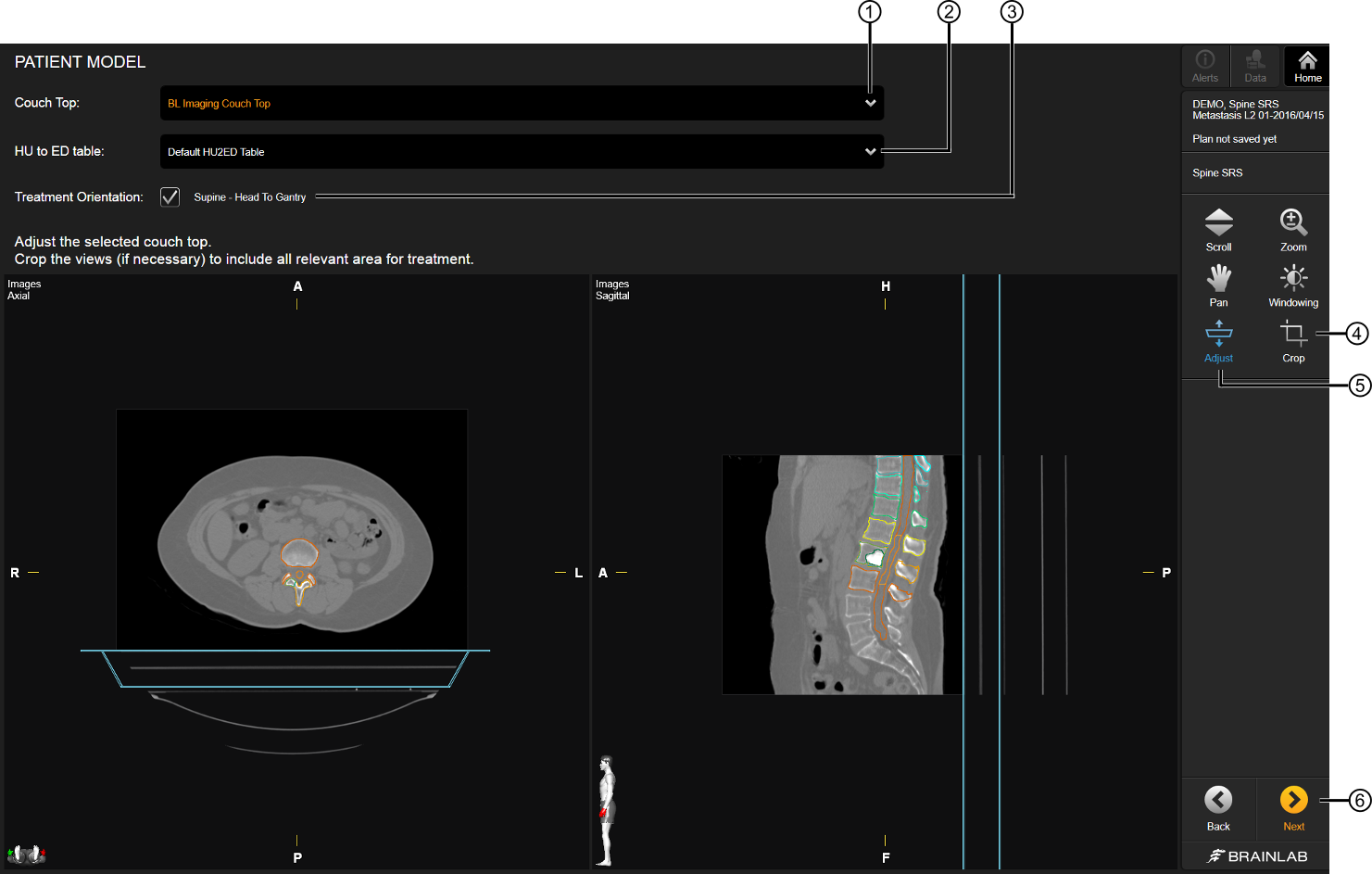 In the first preparation page, you must define the Patient Model settings. You can crop the views to include all relevant treatment areas in the Outer Contour and (if a couch top was selected) adjust the couch top in the axial and sagittal slices.
Step

1.

Select the couch top from the drop-down list ①.

The default setting is None. If no couch top model is selected, the couch top can be cropped from the CT using the crop tool. If the couch top in the CT is not cropped, the CT couch top is included in the dose calculation.

If a couch top model is selected, the internal couch top model appears in blue and is included in the dose calculation. The selected model replaces the couch in the CT and becomes part of the tissue model.

2.

Select the HU to ED conversion table from the drop-down list ②.

Only approved HU to ED conversion tables are visible for selection.

3.

Confirm that the treatment orientation is supine and head first in relation to the gantry by clicking on the check box next to Treatment Orientation ③.

4.

Select Crop ④. Drag the sides of the blue rectangles to include the area of patient data that the algorithm takes into account when creating the Outer Contour.

Cropping outside the range of the planning CT in the superior or inferior direction causes parts of the couch top that are outside of this range to be ignored during dose calculation.

5.

Select Adjust ⑤. Drag the blue couch top representations to position the couch top within the scan images. The imported couch top objects appear in white as positioning help. As soon as you are finished dragging, the positioning help disappears.

6.

Select Next ⑥ to proceed.
Art-No. 60919-40EN