Virtual iMRI Cranial
General Information
Patient anatomy changes during surgery. Using intraoperative imaging techniques, it is possible to obtain new image sets depicting the actual modified patient anatomy.
By means of Virtual iMRI Cranial you may achieve an improved spatial matching of pre- and intraoperative image data by elastically morphing preoperative planning information onto an intraoperative scan and accounting for surgery-related brainshift due to CSF leakage.
Virtual iMRI Cranial creates a virtual image set by simulating tissue modifications of a preoperative image set and applying a deformation field, in order to better match the intraoperative reference image set. The aim is then to review the virtual image set together with any other potential content and/or other image sets present in the preoperative plan with respect to the intraoperative image set, and if satisfactory, approve the result.
Warning
Recommendations
Image data for Virtual iMRI Cranial should follow these recommendations to ensure the best results:
Image pairs should cover an intersecting volume of the patient.

A minimum of 10 slices

A slice distance lower than 3 mm (slice thickness lower than 3 mm and an acquisition without gaps are recommended)

Full DICOM information (i.e., complete DICOM header, indicating e.g., acquisition parameters)

If MRI data needs correcting, it should be acquired as a 3D or 2D-axial sequence with a T1-weighting (a T2-weighting or fat suppressed acquisition is also recommended).

Intraoperative image acquisition should be performed with the bone flap back in place (i.e., the skull is closed/covered by the bone flap again)

Good raw image quality (e.g., high resolution, high contrast, minimal artifacts)
Supported Image Modalities
The following imaging modalities are supported for Virtual iMRI Cranial, if paired as follows:
Unsupported Image Modalities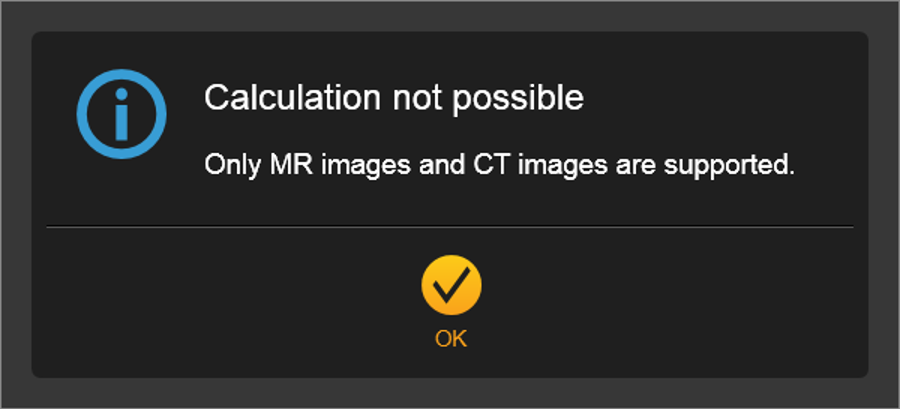 The following special modalities and sequence types are not supported for direct calculation:
Previously deformed image sets

RGB images

DTI Studies (B0, FA or ADC maps)

Phase and velocity maps

Perfusion maps

Spectroscopy images

Gradient calibration scans

FLAWS scans (fluid and white matter suppression)

Subtraction images and projections (Minimum/Maximum Intensity Projections)

Image sets containing burned-in objects
Supported Content
The following content is supported and adapted based on the deformation of an image set:
Voxel objects

Labeled points

Trajectories

Fiber bundles (e.g., DTI fiber tracts)
Article No. 60917-73EN