Oprettelse af fiberbundter
Funktioner til oprettelse af fiberbundter
Fiberbundter kan oprettes på to måder i Fibertracking:
| Valgmulighed | Beskrivelse |
| --- | --- |
| Interesseområdebaseret sporing | Fibre spores gennem definerede interesseområder. |
| Interaktiv sporing | Fibre spores og vises live under navigation gennem billeddata (lavere opløsning). |
Fibertracking-parametre
Du kan gennemgå og justere parametrene for Fibertracking (hvis nødvendigt) for at opnå optimal sporing af fibre i billedsættet. Afhængigt af de importerede DTI-data kræver standardinstillingerne (vist på billedet herunder) muligvis justering.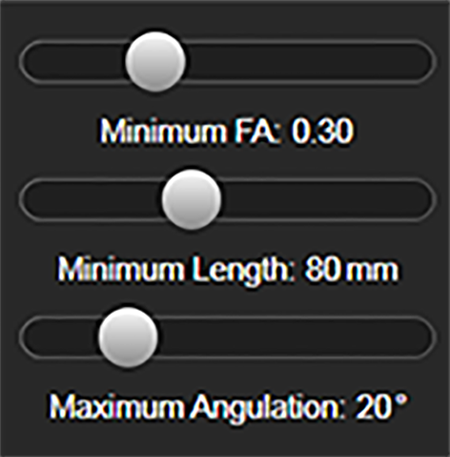 Funktion

Forklaring

Minimum FA

FA (fraktioneret anisotropi) tærsklen er minimum-diffusionsværdien, der tages i betragtning ved sporingen af fibre.

Flyt linjemarkøren for at ændre minimum for fraktioneret anisotropi.

Lavere værdier tillader diffusion i mange retninger (isotropisk), og højere værdier begrænser diffusionen langs parallelle retninger (anisotropisk).

Minimum Length

Flyt linjemarkøren for at indstille begrænsningen for fibrenes minimumslængde.

Maximum Angulation

Flyt linjemarkøren for at indstille vinklen mellem to fibersegmenter for således at påvirke fiberbundtets vinkling. Højere værdier tillader fiberbundter med større krumning.
Valgt fiberbundt
Oplysninger om det aktuelt valgte fiberbundt vises i overlejringsfeltet. Alle ændringer (f.eks. justeringer af indstillinger) og nye interesseområder anvendes straks på det aktuelt valgte fiberbundt.
Art-nr.: 60917-64DA