Lead Localization
Table des matières
GENERAL INFORMATION

SOFTWARE OVERVIEW

USING LEAD LOCALIZATION
Identifier votre produit
Pour le matériel
Le nom du produit figure sur l'étiquette du dispositif.
Pour le logiciel
Pour trouver le nom et la version du produit Brainlab, procédez comme suit :
1. Cliquez ou appuyez sur le logo Brainlab dans le logiciel (en bas à droite).  Une boîte de dialogue s'ouvre.

2. Notez le nom et le numéro de version du logiciel qui apparaissent dans la boîte de dialogue. Il vous faut les deux premiers chiffres de la version pour trouver le guide d'utilisation correct.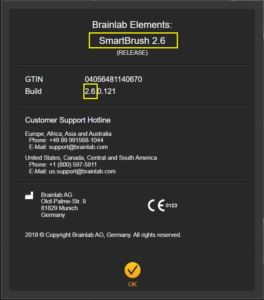 3. Saisissez ces détails dans le champ de recherche sur ce site.
La version la plus récente apparaît par défaut. Si vous avez une version logicielle antérieure, consultez le menu déroulant pour voir si elle est disponible.
Saving and Closing the Software
Saving and Closing
To save or close the software, perform one of the following tasks.
Article No. 60917-70EN
Date de publication: 2018-07-25
La version en ligne est basée sur la version imprimée du guide d'utilisation mais peut contenir des éléments supplémentaires.