Export to DICOM
DICOM Export Dialog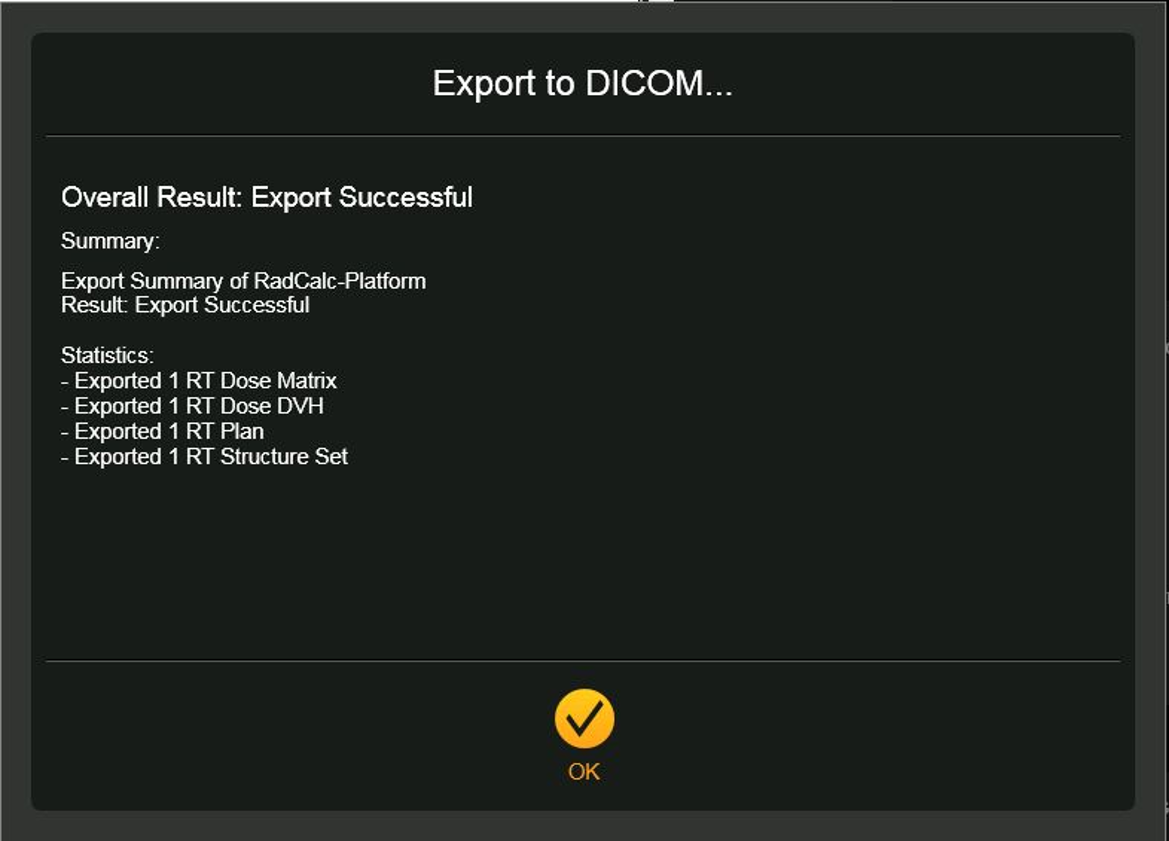 The software exports to DICOM automatically. A dialog is displayed during export.
DICOM Conformance
Export to DICOM is only possible after plan optimization has been performed. The software uses the DICOM 3.0 merge library as the transfer protocol to deliver information to third-party systems. DICOM facilitates general interoperability between different vendor systems. DICOM RT (Radiotherapy) as used in this software is the most recent subset of DICOM objects used to handle the transfer of specific digital images and graphical and non-image data between two or more systems.
For detailed information, refer to the latest DICOM Conformance statements at: www.brainlab.com/DICOM.
The DICOM configuration performed by Brainlab is by no means a guarantee that interoperability is always correct. Users must verify that their equipment is fully functional and produces accurate results.
Warning
Caution
Caution
Caution
Third-Party DICOM Interfaces
According to the IEC 62083 regulations, the correctness of input data must be verified and the complete treatment plans must be appropriately reviewed and approved by a qualified personnel.
Warning
Caution
Export Platform Files
Depending on the intended subsequent use of the exported DICOM data in your clinic, various export platform files are predefined according to your requirements by your Brainlab support specialist.
The options available to you during export will vary slightly depending on the settings configured in the export platform file selected for the current archive.
For safety reasons, the export platform files for treatment plans can only be edited by Brainlab support.
Using the default export platform can result in incorrect treatment.
If the support engineer changes the Dose Export mode from

Plan

to

Beam

, be aware that the software may run out of memory if a large number of beams with large dose volumes are defined.
Verify the dynamic arc treatment modality by importing the DICOM RT export files into the R&V system. These parameters can be transferred to the linac console and "beam on" is possible.
Art-No. 60919-40EN