Einleitung
Allgemeines
Mit Fibertracking können Sie auf der Basis von diffusionsgewichteten MR-Bildern Nervenfaserstrukturen in einer festgelegten ROI (region of interest, Bereich von Interesse) berechnen. Darüber hinaus können Sie Faserbündel für die weitere Planung in 3D-Objekte konvertieren.
Laden Sie einen DTI-Datensatz in den aktuellen Behandlungsplan, um Fibertracking zu verwenden.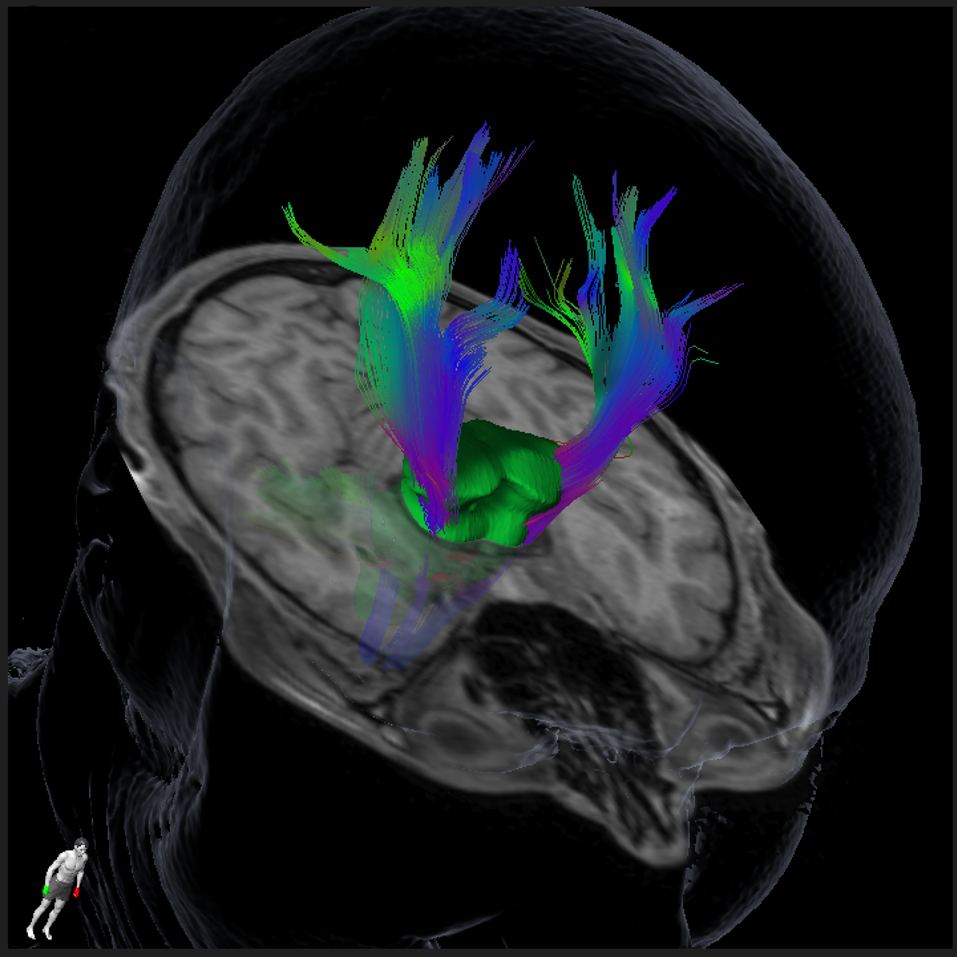 Basis für Fibertracking
Fibertracking basiert auf der Messung der Diffusionsanisotropie im Gehirn mithilfe von diffusionsgewichteten Bildern (DTI-Daten), die in mehreren Richtungen aufgenommen wurden. Die Fibertracking-Software berechnet dann für das gesamte Datenvolumen die Richtung der Wasserdiffusion entlang potentieller Nervenfasern. Durch die Verbindung einer Reihe von Punkten wird die Faser als eine Linie rekonstruiert.
DTI-Daten
Fibertracking verwendet einen Hintergrunddienst (DTI Preprocessing Performer) zur automatischen Erkennung und Vorverarbeitung gültiger DTI-Daten. Die Software konvertiert die Daten in eine DTI-Studie, die die vorregistrierten Bilddatensätze B0, ADC und den (farbigen) FA-Datensatz sowie den für Fibertracking erforderlichen Diffusionstensor beinhaltet. Die DTI-Studie kann bei der Patientenauswahl selektiert werden (siehe Software-Benutzerhandbuch, Content Manager/Patient Selection).
Fibertracking-Darstellung
Die Richtung der Wasserdiffusion entlang potentieller Nervenfasern wird für das gesamte Datenvolumen berechnet. In der Fibertracking-Software wird die Richtung jeder einzelnen Faser gemäß einem Farbschema, bei dem bestimmte Farben eine bestimmte Richtung darstellen, angezeigt. Mit anderen Worten liefert diese Farbdarstellung (neurologische Konvention) Informationen zur Richtung der Wasserdiffusion entlang potentieller Fasern innerhalb der Schichten.
Faserfarben
Bei mehrfarbigen Fasern gilt folgende Farbkonvention:
| Faserfarbe | Diffusionsrichtung |
| --- | --- |
| Rot | Links-rechts |
| Grün | Anterior-posterior |
| Blau | Kopf-Fuß |
DTI-Vorverarbeitung
Die Berechnung eines Diffusionstensorfeldes aus dem DTI-Datensatz und die Berechnung der ADC- und FA-Datensätze basieren auf wissenschaftlich belegten und bereits veröffentlichten Methoden und Algorithmen:
Le Bihan D, Mangin JF, Poupon C, Clark CA, Pappata S, Molko N, Chabriat H. Diffusion tensor imaging: concepts and applications. J Magn Reson Imaging 2001;13(4):534-546.

Masutani Y, Aoki S, Abe O, Hayashi N, Otomo K. MR diffusion tensor imaging: recent advance and new techniques for diffusion tensor visualization. Eur J Radiol 2003;46(1):53-66.
Fibertracking-Algorithmus
Fibertracking basiert auf dem Algorithmus FACT (fiber assignment by continuous tracing), zuerst veröffentlicht von Mori, et al. im Jahr 2002 (Mori S, van Zijl PC. Fiber tracking: principles and strategies – A technical review. NMR Biomed 2002;15(7-8):468-480).
Vorsichtshinweis
Vorsichtshinweis
Art.-Nr.: L60917-64DE